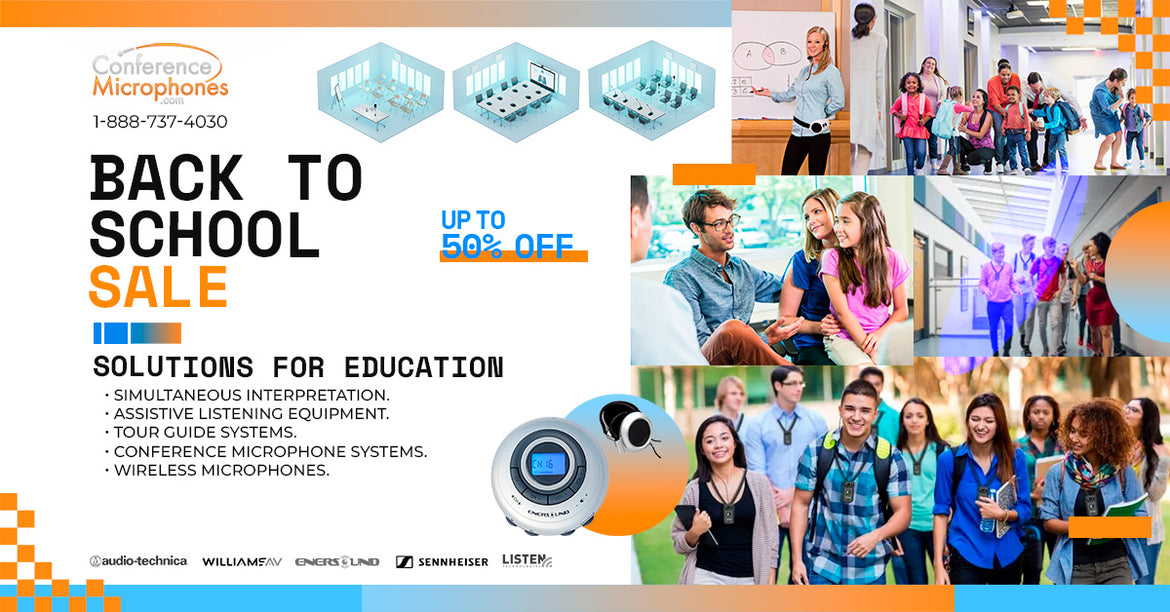 Back to School, solutions for education
agregar_10-person-assistive-listening-system-with-neckloops-and-ada-plaque-limited-lifetime-warranty, agregar_25-person-translation-system-with-interpreter-monitor-lifetime-warranty, agregar_5-person-portable-translation-tourguide-professional-system-lifetime-warranty, agregar_6-person-teleconference-microphone-system-enersound-cs-300-6usb, agregar_digi-wave-400-wireless-intercom-system, agregar_enersound-pa-200-personal-waistband-voice-amplifier-white, agregar_lks-3-listentalk-two-way-communication-collabor-8-system, agregar_voice-tracker-iii, agregar_williams-sound-dws-tgs-23-400-rch-tour-guide-system, agregar_williams-sound-tgs-pro-738-personal-pa-fm-tour-guide-system

16 Aug, 2023
We understand the importance of providing top-notch language and audio solutions for K-12 schools, school districts, and universities nationwide and beyond.
Whether you're preparing for curriculum nights, parent and student orientations, school and college tours for prospective families, PTA/PTO meetings and lectures, conferences, classes, or meetings, we have the perfect products to meet your needs. And the best part? Our prices are unbeatable!
Not only are we approved vendors with many school districts and universities, but we also gladly accept purchase orders for your convenience.
Here are some of our products with offers for different linguistic and audio solutions that are perfect for your school.
Featured products for education solutions: