100-Person Translation System with Interpreter Monitor (Lifetime Warranty)
SKU:

TSB-100

UPC:

799422821811

Availability:

In stock, Ships in 1 business day.

Weight:

38.00 LBS

Minimum Purchase:

1 unit

Shipping:

Calculated at Checkout
Description
Due to factors such as globalization or cultural diversity, it is normal for churches to be visited by people from different nationalities, which leads them to the need to acquire an simultaneous interpretation system in order to provide the best experience to their attendants.
This
100-person Professional-grade Wireless Simultaneous Translation System
provides superior sound quality and excellent coverage range, combining multiple-channel transmitter and receivers, as well as improved reliability and versatility. It can be expanded by adding an unlimited number of additional receivers. More foreign languages can be added for a maximum of 6 in the same room by purchasing 1 additional transmitter and microphone per language.
Specially designed for Churches and Houses of Worship, it has a unique integrated interpreter console function. This feature allows interpreters to select an external incoming audio source and utilize a headset with microphone to listen to the source language without the need of an interpreter console or external headphone amplifier. Through the headphones' volume control, interpreters can set the desired incoming audio level and the mute button allows them to momentarily silence their microphone for coughing or sneezing.
How Do Interpretation System for Church Work?
There are three main parts you have to know:
The headset microphone: the mic that the translator wears when translating your services.

The translation transmitter: the device where translator's microphone is hooked to for transmitting the language.

The translation receivers and headsets worn by the people receiving the translation.
Note: This system requires a human language interpreter, it does not translate automatically.
System includes
(100) Enersound R-120 Digital FM Receivers with LCD screen (no backlight)

(101) Enersound Double Earphones for Audience and Interpreter

(1) Enersound T-500 17-Channel Base Transmitter with Antenna and Power Supply

(1) Enersound MIC-300 Professional Interpreter Headband Microphone
Highlights
17-channel digital FM transmitter with LCD screen Unique integrated interpreter monitor function

Multiple inputs and connector types for speech, music or any other audio signals

20-channel digital FM receivers with LCD screen

Complimentary double earphones

Superb sound quality and reliability

Multiple carrying options included: belt clip, Velcro armband, neck strap

Compatible with most 72-76 Mhz FM systems

Small & lightweight

No seating restrictions

Operating range of 500 ft (152m) (Expandable up to 1000 ft)

Plug and play, easy to use

FCC/IC approved

Limited lifetime warranty
Enersound T-500 Transmitter
EAR-120 Dual Headphones
Enersound R-120 Receiver
OPTIONAL RECOMMENDED

MIC-300 Interpreter Microphone

(4) Carrying Case CAS-25

$279.00 only with package




Diagram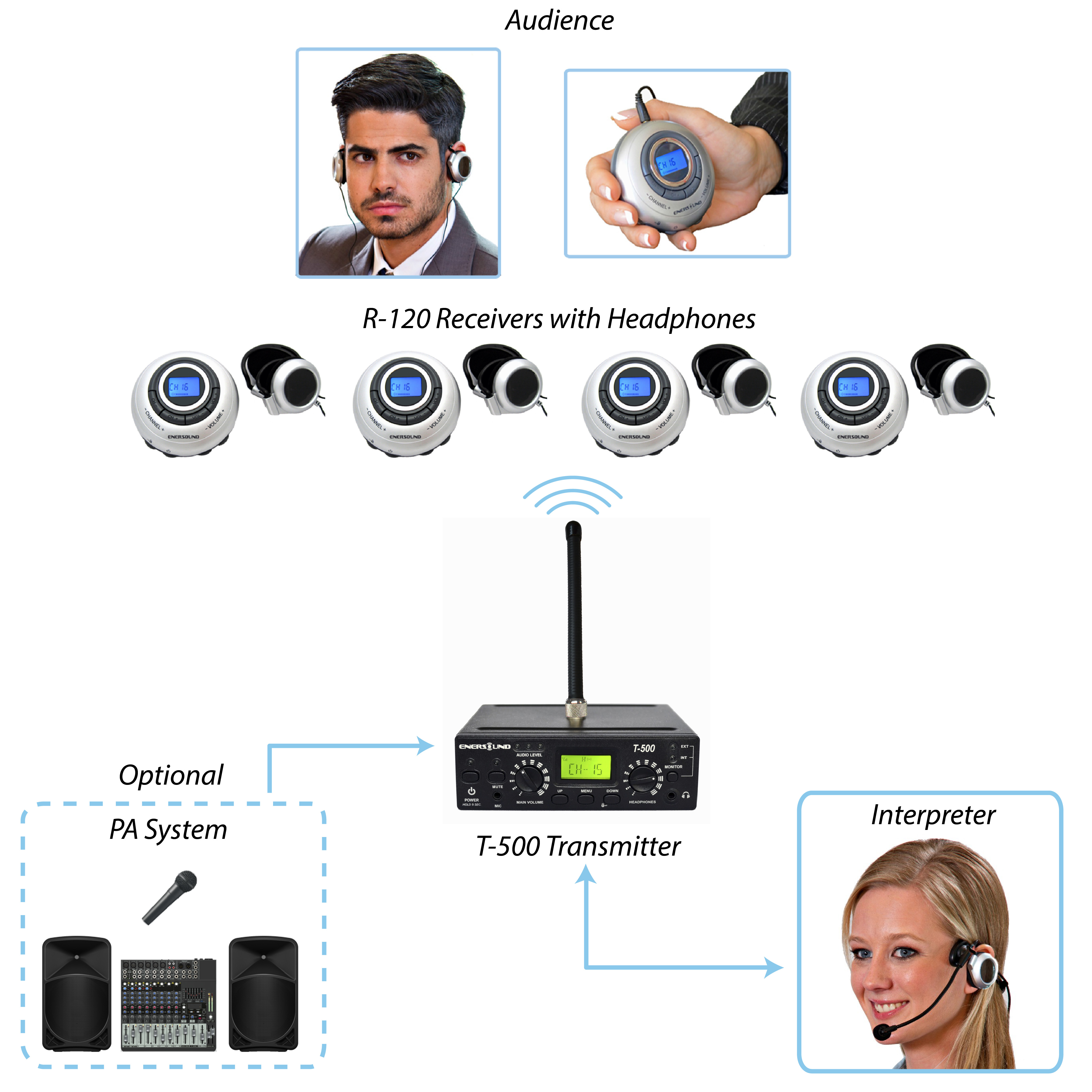 View All
Close
Warranty Information
-LIMITED LIFETIME WARRANTY ON R-120 RECEIVERS AND T-500 TRANSMITTERS purchased after May 15, 2019. 1-YEAR WARRANTY ON ALL ACCESSORIES (including microphones, headphones, carrying cases, cables, antennas, power supplies, etc.). Visit Enersound website for complete warranty details and limitations.
View All
Close
3 Reviews
Clearly, the superior system.

We've had quite a few stints with other interpretation systems, and the main reason we went with this one is because it had compatible frequencies with our previous receivers, and the price was right. We initially purchased the 5-person one, but we were so impressed by the quality of the receivers that we decided to replace our old one with this 100-person one to have support for two languages (in total). A really good purchase!

We talked to the customer support team over the phone and they were very supportive when explaining how to use and set up this system. We are a medium-sized Church with a very diverse set of congregants, and we're now very happy we can provide full translation of our services for them.

we use this for training sessions in our mining business and its very reliable, improves communication by a large margin
View All
Close