10-Person Portable Translation/Tourguide Professional System (Lifetime Warranty)
SKU:

TSP-10

UPC:

708191790907

Availability:

In stock. Usually ships within 24 hours.

Weight:

6.00 LBS

Shipping:

Calculated at Checkout
Description
This
10-person Portable Wireless Translation/Tourguide System
provides superior sound quality and full mobility, combining multiple-channel transmitter and receivers, as well as improved reliability and versatility. It can be expanded by adding an unlimited number of additional receivers. More foreign languages/ auditory sources can be added for a maximum of 6 in the same area by purchasing 1 additional transmitter and microphone per auditory source.
You can find this Portable Translation System in Los Angeles, California used for guided tours to TV Studios, Museums and sightseeing.
Specifications of Wireless audio Tour Guide system
It is a better way to provide tours for your tour groups. Wireless audio tour guide system is an easy-to-use wireless communication system designed specifically for tour groups, factory tours, outdoor excursions, employee training, language interpretation, conferences and trade shows.
Note: This system requires a human language interpreter, it does not translate automatically.
System includes
(10) Enersound R120 Receivers

(10) Dual Headphones EAR-120

(1) Enersound TP-600 Transmitter

(1) Enersound MIC-200SEN Headband Microphone

Optional: Cas10 Carrying Case for 10 Enersound R120 Receivers + Accessories
Highlights
17-channel digital FM transmitter with LCD screen

20-channel digital FM receivers with LCD screen

Complimentary dual stereo earphones

Superb sound quality and reliability

Multiple carrying options included: belt clip, Velcro armband, neck strap

Compatible with most 72-76 Mhz FM systems

Small & lightweight

No seating restrictions

Operating range of 150 ft (45m)

FCC/IC Approved

Limited lifetime warranty
Enersound R120 Receivers

+ EAR120 Headphones

Enersound TP-600

Transmitter

Enersound MIC-200SEN

Headband MIC

Download

Optional: CAS-10 Carrying Case

Interpretation-TSP-10 Brochure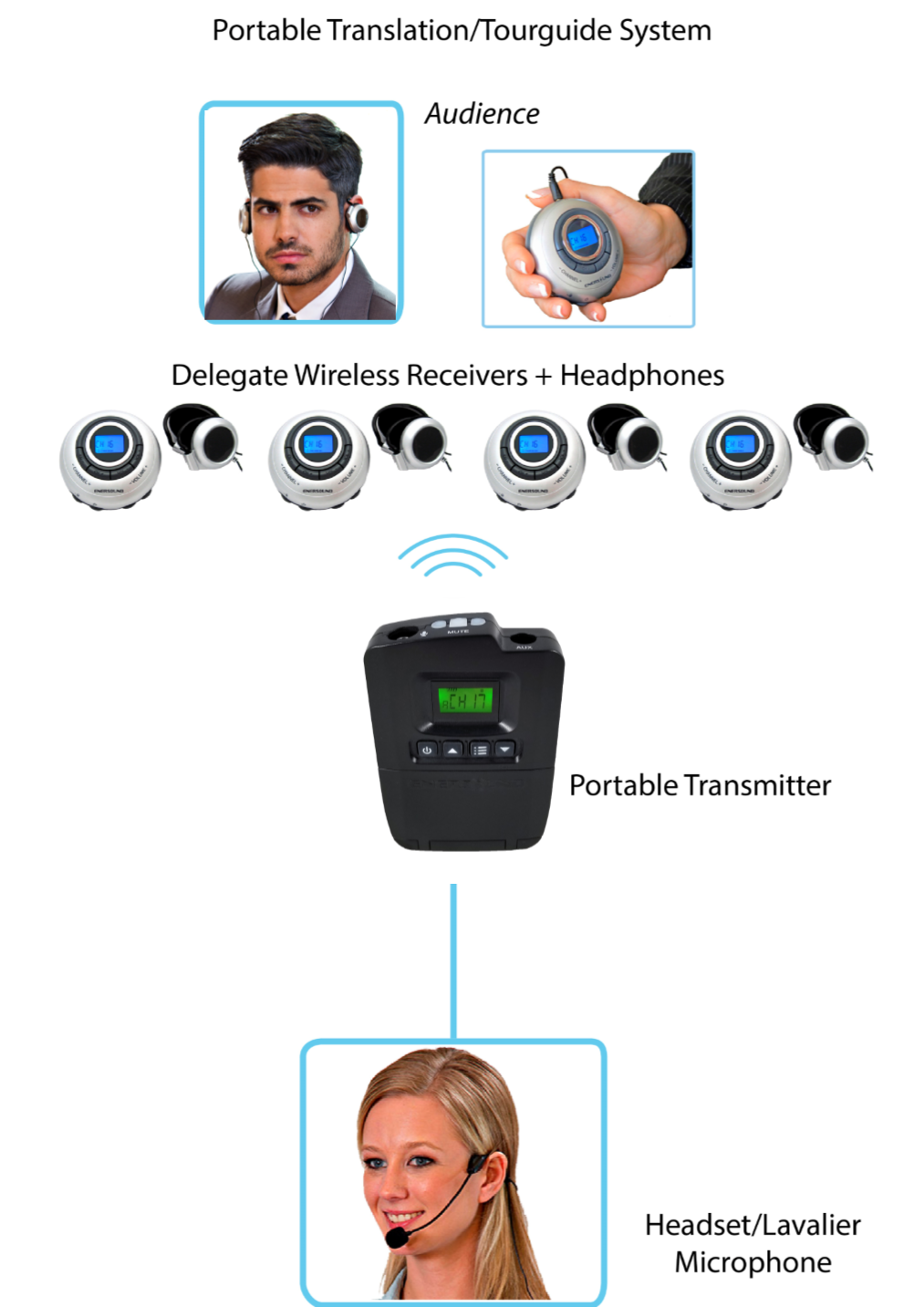 View All
Close
Warranty Information
-LIMITED LIFETIME WARRANTY ON R-120 RECEIVERS AND TP-600 TRANSMITTERS purchased after May 15, 2019. 1-YEAR WARRANTY ON ALL ACCESSORIES (including microphones, headphones, carrying cases, cables, antennas, power supplies, etc.). Visit the Enersound site for more information.
View All
Close
8 Reviews
We're really grateful!

We use this for seminars at the Church and it makes interpreting a breeze when having to move between classrooms!

I've used systems by Williams, Listen Tech and this Enersound one has them beat for range (they tend to fizzle out by the edge of the 150ft) and battery life. Can't beat the price either; they're also expandable so there's no going wrong here.

The reception on these is crystal clear! Will add more receivers in July!

I am extremely pleased with this system. I use it for training sessions and bilingual interviews. Really great!

good results at our school

Our teachers have to use this for regular parent-teacher meetups with families who are not fluent in English and it's improved communication alot

the best price/ great quality!

Very professional equipment! The carrying case is perfect for the ride!

A good combination,price and performance.Very easy to use too!

Thank you for the great customer service! I was contacted and received all the help I needed to choose the system that best suited my needs. And I was not disappointed!! Great quality and great price. Amazing system, guys.
The system works well even in noisy environments such as our factory. The beltclip body pack with the headband microphone is comfortable to wear even for long periods of time. I would recommend this system to anyone looking for a quality tourguide system.


View All
Close