75-Person Portable Translation/Tourguide System (Limited Lifetime Warranty)
SKU:

TSP-75

UPC:

799422821828

Availability:

In stock. Usually ships within 24 hours.

Weight:

28.00 LBS

Shipping:

Calculated at Checkout
Description
This 75-person Portable Wireless Translation/Tourguide System provides superior sound quality and full mobility, combining multiple-channel transmitter and receivers, as well as improved reliability and versatility. It can be expanded by adding an unlimited number of additional receivers. More foreign languages/ auditory sources can be added for a maximum of 6 in the same area by purchasing 1 additional transmitter and microphone per auditory source.
Translation System for Education
This translation system is specially designed for education purposes, it has a unique integrated interpreter console function. This feature allows interpreters to select an external incoming audio source and utilize a headset with microphone to listen to the source language without the need of an interpreter console or external headphone amplifier. Through the headphones' volume control, interpreters can set the desired incoming audio level and the mute button allows them to momentarily silence their microphone for coughing or sneezing.
Schools, Colleges and Universities from all over Texas are currently using this kind of interpretation systems due to the increase in students exchange programs. We highly recommend the use of translation equipment because cultural and language differences make communication and participation in school activities and further integration a difficult task for non-natives. This creates a large communication gap that can be solved with the right interpretation system.
Note: This system requires a human language interpreter, it does not translate automatically.
System includes
(75) Enersound R120 Receivers

(75) Dual Headphones EAR-120

(1) Enersound TP-600 Transmitter

(1) Enersound MIC-200SEN Headband Microphone
Optional: (3) Cas25 Carrying Cases for 25 Enersound R120 Receivers + Accessories


Highlights
17-channel digital FM transmitter with LCD screen

20-channel digital FM receivers with LCD screen

Complimentary dual stereo earphones

Superb sound quality and reliability

Multiple carrying options included: belt clip, Velcro armband, neck strap

Compatible with most 72-76 Mhz FM systems

Small & lightweight

No seating restrictions

Operating range of 150 ft (45m)

FCC/IC approved

Limited lifetime warranty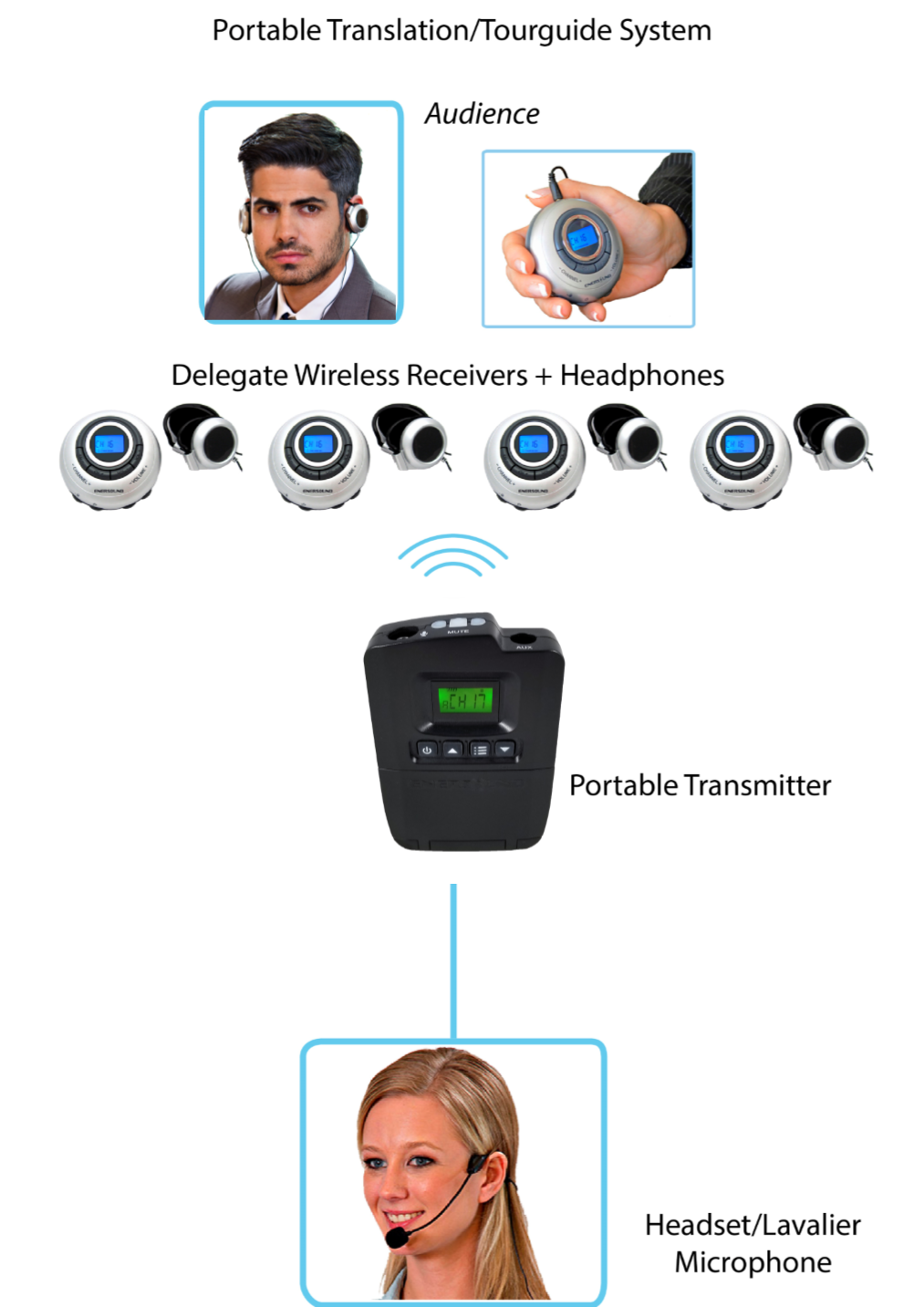 View All
Close
Warranty Information
-LIMITED LIFETIME WARRANTY ON R-120 RECEIVERS AND TP-600 TRANSMITTERS purchased after May 15, 2019. 1-YEAR WARRANTY ON ALL ACCESSORIES (including microphones, headphones, carrying cases, cables, antennas, power supplies, etc.). Visit the Enersound site for more information.
View All
Close
3 Reviews
We use this at the University and we're woved by the sound quality and reliability. We also had a few technical questions which were quickly and easily resolved by the staff -- the warranty is another BIG selling point!

I'm a stickler for quality, and I research obsessively when making expensive purchases. We almost went with a different brand, but the lifetime warranty and excellent tech support made us go with this one. We're really happy we did, the quality is excellent! Everybody at the resort has only spoken positively about this one!

An incredible asset to our business retreats

We do yearly business retreats at my company which require a large contingent of Chinese-speaking participants. This has enabled us to maintain an excellent level of communication and fluency while keeping us on the same page.
View All
Close